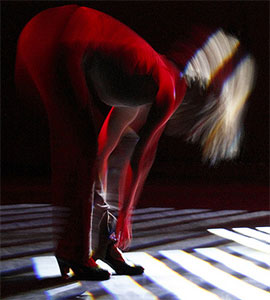 [:fr]Chorégraphie et interprétation: Julie Sapy
Musique originale: Thierry Piolé
« Sólo compás » évoque ces morceaux de musique sans guitare ni chant qui soutiennent les danseurs dans leur apprentissage, grâce au seul son des palmas et du cajón.
Ce court solo raconte une expérience, une découverte : celle du flamenco. A l'origine de cette pièce, la fusion de cet art et de la danse contemporaine nous parle aussi de rencontre, de jeu, de séduction.
Entre ces deux univers, tour à tour bancale, sensuelle ou déterminée, la silhouette tranquille d'une jeunesse perplexe et remplie de désirs se dessine pas à pas. Au cœur de l'Espagne, dans les cours de danse et sur la scène, le « compás » résonne inlassablement. Dans cette rythmique propre au flamenco, nous partons, entre guitares, olés et tapés du pied !
Extrait musical
Sólo compás – Thierry Piolé
Galerie photo
© Eric Halley
Représentations
14 mai 2011
– Espace culturel de Gignac (34)
3 déc. 2010
– Spectacle invité par la Compagnie Point d'Identité, Teyran (34)
23 oct. 2010
– Rencontres danse amateur, Théâtre de Clermont l'Hérault (34)
[:en]
Choreography and interpretation: Julie Sapy
Music composed by Thierry Piolé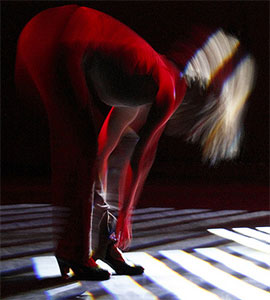 "Solo Compas" evokes pieces of music based on the sounds of clapping and the Flamenco box drum, without guitar and voice. They are used by the dancers during their training.
This solo is about an experience, a discovery: Flamenco. The fusion of this art with contemporary dance gives rise to encounters, games, and seduction. In the middle of these two worlds, in turn unsteady, sensual or determined, the calm silhouette of a young girl, at one and the same time perplexed and filled with desire, gradually unfolds. In the heart of Spain, during dance classes or on stage, the 'Compas' rings out tirelessly. With this rhythm peculiar to Flamenco, we begin, with guitars, "Olés" and foot stamping!
Musical extract
Sólo compás – Thierry Piolé
Photo gallery
© Eric Halley
Past shows
May 14th  2011: Dance Meeting, Espace culturel of Gignac, France
December 3rd  2010: Invited by the Point d'Identité company, Teyran, France
October 23rd  2011: Dance Meeting, Theatre of Clermont l'Hérault, France
[:es]
Coreografía e interpretación: Julie Sapy
Música: Thierry Piolé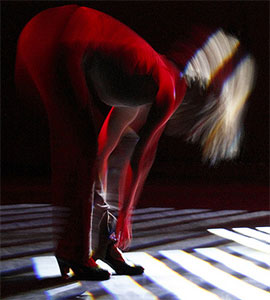 "Sólo compás" evoca a piezas de música sin guitarras ni cante que ayudan a los bailaores durante su aprendizaje, gracias al único sonido de las palmas y del cajón.
Este solo cuenta una experiencia, un descubrimiento: el Flamenco. A través de la fusión de este arte con la danza contemporánea, esta coreografía trata de encuentros, juegos, y seducción. Entre estos dos universos, a veces frágil, sensual o determinada, la silueta tranquila de una juventud a la vez perpleja y llena de deseos aparece poco a poco. En la España profunda, durante las clases de baile y en el escenario, el compás resuena sin cesar. ¡Con esta rítmica propia del flamenco, nos vamos, entre guitarras, olés, y zapateados!
Extracto musical
Sólo compás – Thierry Piolé
Galería de fotos
© Eric Halley
Actuaciones
14 de mayo de 2011 : Espace culturel de Gignac (Francia)
3 de diciembre de 2010 : Espectáculo invitado por la Compañia Point d'Identité, Teyran (Francia)
23 de octubre de 2010 :  Teatro de Clermont l'Hérault (Francia)
[:]